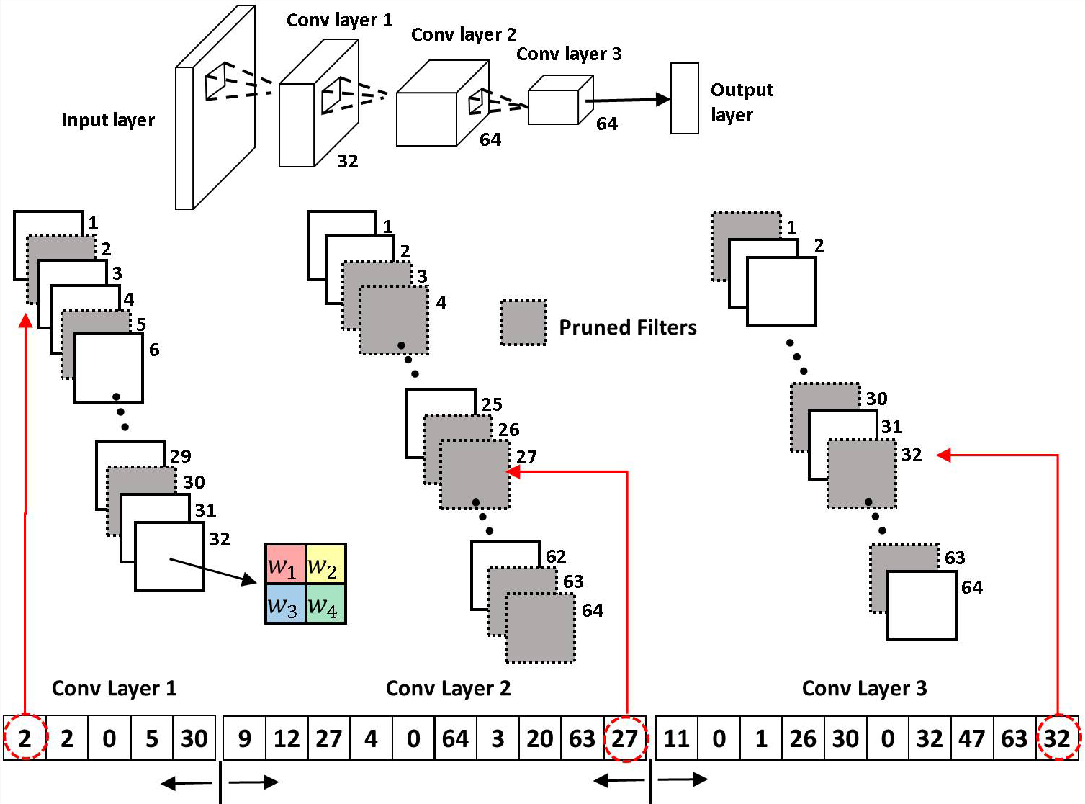 Evolutionary Pruning of CNN Filters
Recent mobile and embedded systems re- quire e_cient visual recognition that builds on a deep learning model such as a convolutional neural network (CNN). Since features of a CNN are automatically generated for deep layers, there exists redundancy in features, which can be further compressed. Therefore, we propose evolutionary pruning algorithms to remove the irrelevant deep features in order to minimize the computational complexity and overfitting while maintaining a good quality of representation. Our proposed filter pruning via genetic algorithms (GA) helps to organize the totality of filters considering each filter's relationship and its niche among neighbors while the existing algorithmic pruning mainly focuses on weights of individual filters or activation reconstruction errors. With new GA operations included in our pruning process, we show that our GA method achieves the global optimization solution rather than a local optimization solution normally achieved by other algorithmic pruning approaches. We demonstrate a significant improvement of the filter representation by performing experiments on CIFAR-10 and smartphone metal exterior defect data. Our method is compared with results from the state-of-the-art algorithmic pruning methods in order to show its significant performance improvement by analyzing the classification performance as well as the compression rate and the oating point operations per second (FLOPS). We also show a way how to combine our computationally demanding GA method with existing fast algorithms, in order to implement our GA method to a larger network.
---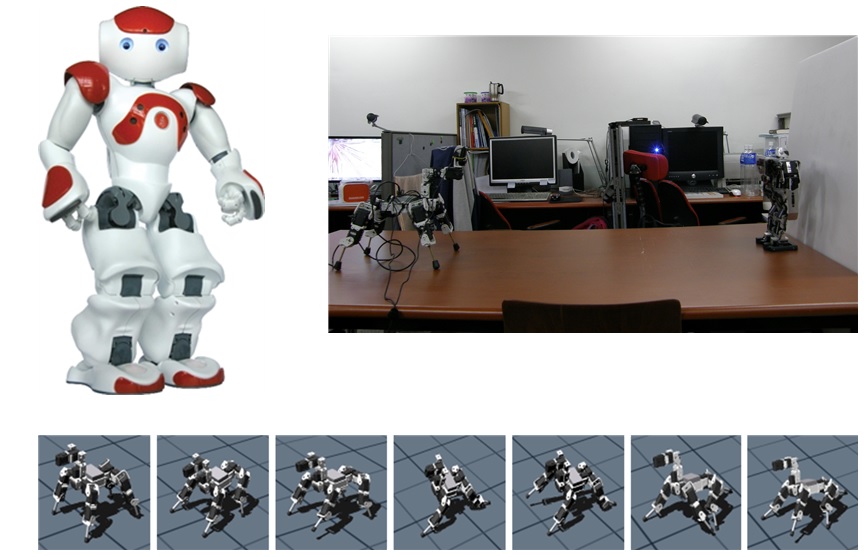 Genetic Programming based Gait Generation for Quadruped Robot
Planning gaits for legged robots is a challenging task that requires optimizing parameters in a highly irregular and multi-dimensional space. Several recent approaches have focused on using genetic algorithms (GAs) to generate gaits automatically and have shown significant improvement over previous gait optimization results. Most current GA-based approaches optimize only a small, pre-selected set of parameters, but it is difficult to decide which parameters should be included in the optimization to get the best results. Moreover, the number of pre-selected parameters is at least 10, so it can be relatively difficult to optimize them, given their high degree of interdependence. To overcome these problems of the typical GA-based approach, we have proposed a seemingly more efficient approach that optimizes joint trajectories instead of locus-related parameters in Cartesian space, using GP. Our GP-based method has obtained much-improved results over the GA-based approaches tested in experiments on the Sony AIBO ERS-7 in the Webots environment. The elite archive mechanism is introduced to combat the premature convergence problems in GP and has shown better results than a traditional multi-population approach.
CPG Based Gait Generation for Humanoid Robots
The research proposes generation methods for humanoid robot walking using a central pattern generator (CPG) based joint modification method to improve the adaptation ability on various slop terrains. Although CPG has basic adaptation ability for the different terrains, but it might be limited to small variations of those. In order to increase terrain adaptability we supplement the modification of joints using genetic algorithm on the output signals of the CPG oscillators. We have tested the two methods to investigate an adaptation capabilities of humanoid walking on various slope terrains with different slope angles using the humanoid robot Nao in the Webot simulation. The performances of humanoid walking on various slope terrains are analyzed.
---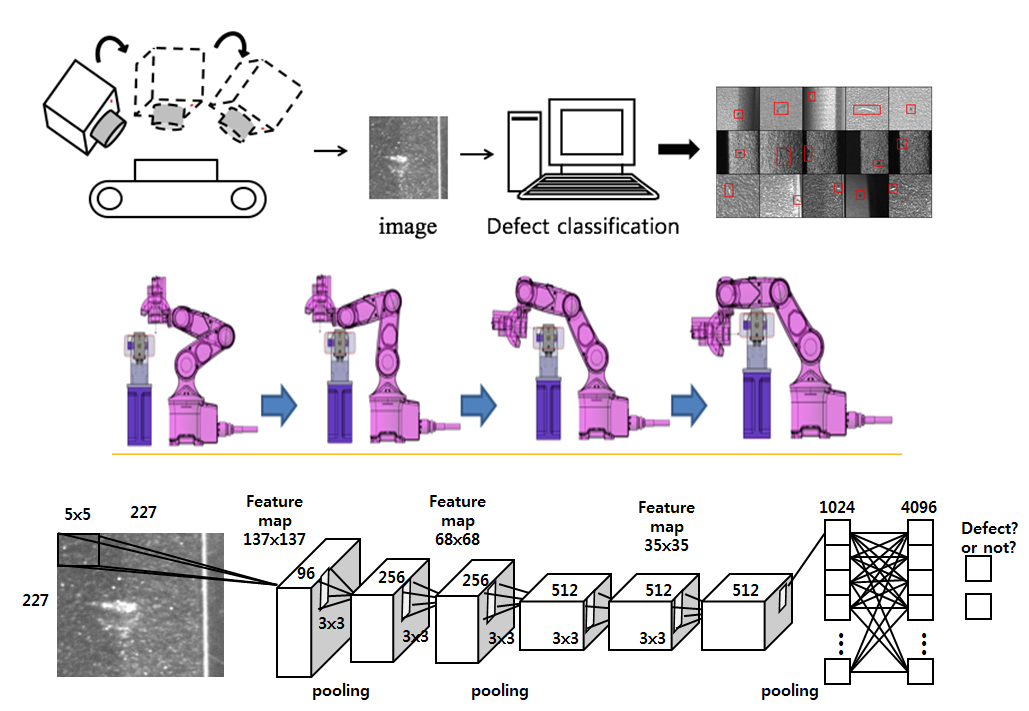 Surface Defect Image Classification of Metal Cases Using CNN
we propose a method of surface defect image classification for metal smartphone cases using a Convolutional Neural Network (CNN) deep learning model. Currently, the smartphone industry performs surface defect classification manually, which is subjective and highly expensive. Surface defect classification for metal smartphone cases is a highly difficult problem due to the presence of shallow and fine cracks as well as defects that are indistinguishable under different illumination conditions. This creates difficulties for automated surface inspection (ASI) methods using conventional machine vision techniques, such as support vector machine (SVM) models with feature engineering. We apply a modern machine vision technique based on CNN deep learning in order to improve the accuracy of defect classification over what can be achieved with conventional machine learning techniques. In contrast to other studies, we show the feasibility and effectiveness of our CNN models using real-word data on metal smartphone case images with and without defects under different surface and lighting conditions. In addition, we analyze different learning behaviors on three different data sets under different learning strategies. The results of our work in this study have the potential to have a significant impact on the smartphone manufacturing industry.
---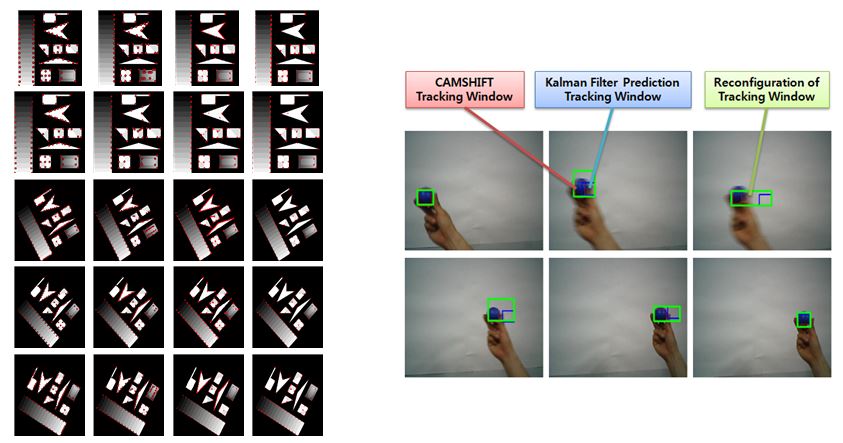 Corner Detection and Object Tracking
This research introduces evolutionary generation method of robust corner detectors for rotated images. Previous Harris, SUSAN and FAST corner detectors are highly efficient for well-defined corners, but frequently mis-detect as corners the corner–like edges which are often generated in rotated images. In this paper, we have focused on this challenging problem and proposed using Genetic Programming to do automated generation of corner detectors that work robustly on rotated images. Especially, a well-devised terminal set is proposed based on intensity-related information, several mask sizes, and amount of contiguity of neighboring pixels of similar intensity. This method is then compared to three existing corner detectors on test images and shows superior results.
---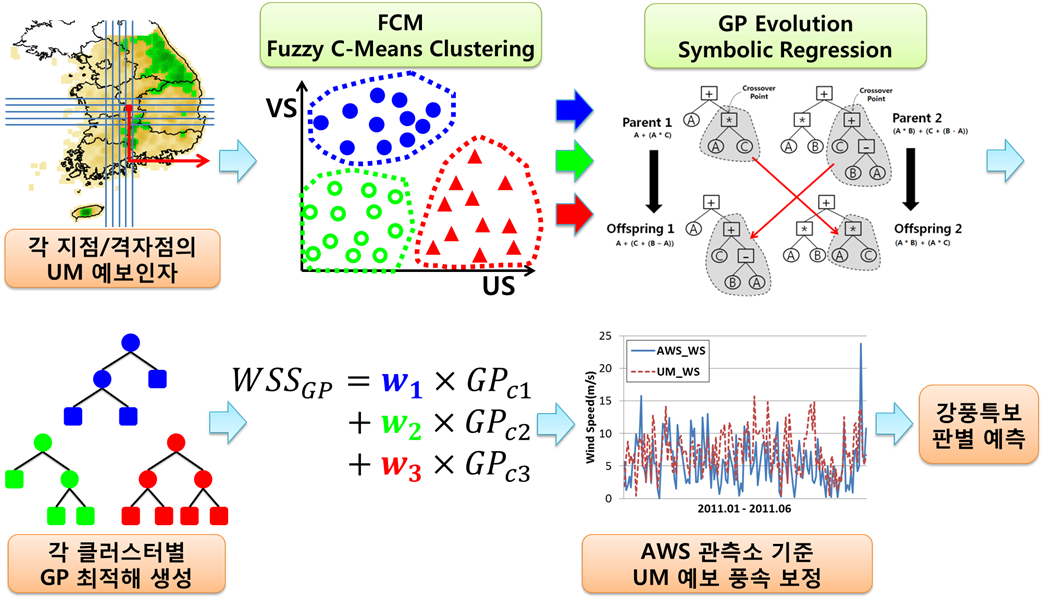 GP 진화연산 이용 강풍특보 예측
This research introduces an evolutionary nonlinear regression based compensation technique for the short-range prediction of wind speed using AWS(Automatic Weather Station) data. Development of an efficient MOS(Model Output Statistics) is necessary to correct systematic errors of the model, but a linear regression based MOS is hard to manage an irregular nature of weather prediction. In order to solve the problem, a nonlinear and symbolic regression method using GP(Genetic Programming) is suggested for a development of MOS wind forecast guidance. Also FCM(Fuzzy C-Means) clustering is adopted to mitigate bias of wind speed data. The purpose of this study is to evaluate the accuracy of the estimation by a GP based nonlinear MOS for 3 days prediction of wind speed in South Korean regions. This method is then compared to the UM model and has shown superior results. Data for 2007-2009, 2011 is used for training, and 2012 is used for testing.
---